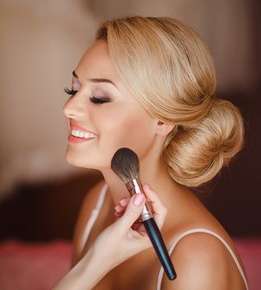 Your wedding day is one of the most important of your life. You have spent many months planning and meeting with consultants, all so that things will go off without a hitch and your vision will come to fruition. While the venue, wedding dress and hairstyle are essential, so is your makeup. Perhaps it is even more critical since your face—or anyone's for that matter—is a focal point that people always hone in on—they aren't talking to your hair or attire, although they are often in their range of sight.
Let's face it: On the day of the wedding, all eyes will be on you. And if there is a photographer, or even guests snapping shots, you will be left with pictures that will endure a lifetime. The last thing you want is to look back at those images and have regrets. It is therefore vital that you choose a makeup artist who is skilled and capable of helping you achieve the look you want for that special day, and it is just as important that the makeup have lasting-power and be easy enough to keep up throughout the event.
Male Grooming
And while it's usually the ladies who partake in the makeup ritual, it's increasingly popular for men to request a little help to look their best too. Now, we aren't talking blush, lipstick and lashes, we are talking about applying a miniscule amount of concealer to tackle troublesome spots and perhaps a translucent powder to keep shine at bay. To retain the man in manly, male makeup is often referred to as "male grooming," and it's designed to give him that equally flawless look.
Remember the Bridal Party and Guests Too
If you haven't thought about your bridesmaids, mother and mother-in-law to be, you should. They will be in those pictures too, and a good-looking bridal party is also key to those pictures being amazing. We aren't in the decades of where brides-to-be put their wedding party in the ugliest garments, hairstyles and makeups. Today, women are taking great care to ensure everyone looks good, while still not being upstaged.
So, how do you achieve an immaculate look for you and your party? Well, it starts by finding a talented and skilled makeup artist who is capable of creating a variety of makeup styles—from the most simplistic to the dramatic. Then, let them prove to you that they are the person for the job with a makeup trial. A makeup trial—typically part of a makeup package but can be purchased as a stand-alone as well—is a session you have with a makeup artist. During it, you discuss your skin and skin type, as well as the makeup styles you do and don't like. Based on this information, your artist will use his or her training to bring the vision you have for your makeup to life. Tweaks are made until the right look is reached. Finally, on the day of your wedding, the artist uses the same makeup and tools from your trial to recreate that perfect look. A makeup trial can be set up for any member of your bridal party as well to make sure their look is on par with the rest of the party.
When you are getting ready for your big day and want to look your best, give our talented team of makeup professionals a call to help make your dream a reality!