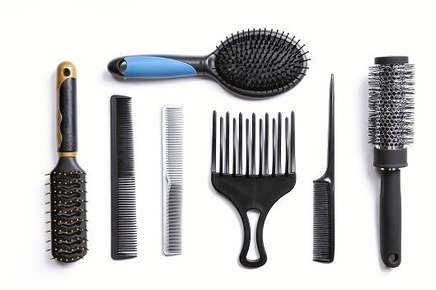 Most women give more thought to their shampoo than to that most humble and underestimated styling tool, the hairbrush. But this basic piece of equipment can make a big difference – for good or bad – in the way your hair looks and feels. Let's examine some of the most common types of hairbrushes and bristles, and discuss which is best for your hair.
Bristles: Natural vs. Synthetic
Bristles make a surprising difference. The usual choices are boar, synthetic, or a combination of the two. Boar bristle brushes work well on most hair types. The densely-packed, flexible bristles efficiently distribute your hair's oils from root to end. If your hair breaks easily, is delicate, thin or damaged, boar bristle brushes are a gentler choice. This brush delivers a smooth, shiny look without frizz.
A nylon bristle brush is best for taming thick, coarse hair. Since the bristles are stiffer, it's much easier than pulling boar bristles through a dense or curly main. People with damaged hair should avoid nylon bristles.
In between? Try a brush that's a combination of boar and nylon. This merges the detangling of synthetic bristles with the smoothing oil redistribution effect of boar.
Paddle brush
Now, for the type of brush. The paddle brush is wide and flat with a bigger surface area than other brush types. This lets you quickly detangle, smooth and defrizz your hair. Recommended for hair that is straight and thick. Try a vented paddle brush for smooth blow drying and perfectly straight hair.
Round brushes
Round brushes are a styling tool for all hair types, from fine to coarse. The tightly packed bristles grip your hair, imparting waves as you blow it dry. You'll usually find these in four sizes, ranging from small to extra large. Your hair length dictates brush size: A small round brush is best for short hair, while extremely long hair calls for the extra-large. You'll find round brushes made of wood or ceramic. Ceramic round brushes often have metal cores that conduct heat, acting as a curling iron while you blow dry for a two-in-one styling tool.
Denman brush
Many curly-haired folks swear by the Denman brush for taming and detangling curls. Its close-set pin design on an anti-static rubber backing is good for evenly distributing serums and leave-in conditioners through the hair. Denman brushes come in several styles, but we recommend one with five to seven rows of bristles, unless your hair is really long – then go for nine rows. However, some users complain that the Denman pulls out too much hair, or leaves it frizzy. Pulling the brush very slowly through your hair should leave more of your strands intact. The Denman is used for both wet and dry styling.
Classic hair brush
This most basic hairbrush, available in every drugstore, has nylon bristles set in a rubber base. These come in several sizes and are good for smooth styles and detangling normal hair. If your hair is damaged, thin or breaks easily, you need a gentler brush.
Wide-toothed comb
The humble wide-tooth comb is an inexpensive, simple and effective tool. These combs are safe for most hair types and can be used to carefully detangle wet hair. Great for travel, their flat profile takes up almost no room on the bottom of your suitcase.
Still confused? Need extra guidance? Come in and see us. Our experts can quickly recommend the best brush for your hair type.