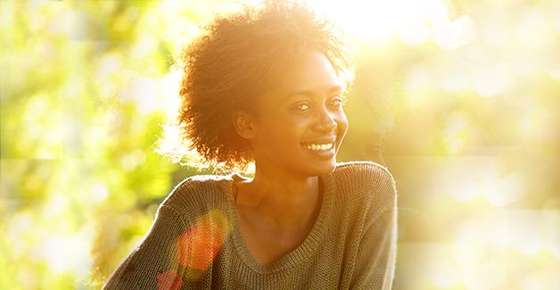 Sometimes there comes a time in a woman's life when she wants to give up all the straightening, extensions, and other chemical processes and go natural. But how do you do it and still look good in the meantime? Here's what you need to know to transition back to your natural beauty.
Start with a trim – and continue to trim
You'll need to let go of your chemically treated hair a little at a time. Start with those fried ends, which are the most damaged part. If your hair has been the site of many flat irons and relaxers, your ends will keep splitting and you'll need to re-trim every month until the crispy bits are gone. Frequent trims also minimize breakage.
Say goodbye to heat
Many ladies find this hard to accept, but if you're working towards healthy natural hair, leave the blow dryer and the flat iron in their drawer. Embrace air drying.
Gentle is the way to go
As your hair starts to grow, you'll notice a very obvious demarcation line where your new natural hair meets your old chemically altered hair. This is your hair's weakest point, so gentle handling is a must. You'll need a lot of moisture. Some women apply conditioner up to an hour before shampooing and let it soak in so their hair is suppler. Carefully washing your hair in sections can also minimize breakage. And you'll want to do a major conditioning at least once a week, from roots to ends. Use lots of conditioner when detangling. Avoid shampoos with sulfates and other drying ingredients.
Find your transitioning style
It's going to feel odd to have two radically different hair textures during your transitioning phase. You'll need to find some new styles that look good on you and don't require heat. These could be buns, braid outs, topknots, Bantu knots or flat twists. Avoid any style that puts a lot of tension on the nape of your neck or your temples, as hair is delicate in these places. This is a good time to expand your headband collection.
Enlist the help of your stylist
You don't have to go it alone! If you need help with your trims, products, or finding the right transitioning style, we're here for you. Give us a call and we'll help you grow into your beautiful, natural hair.